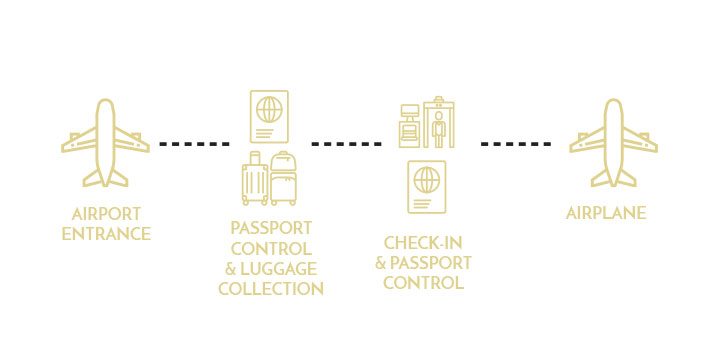 VIP Gate to Gate Fast Track
Travelling can be a very tiring and stressful experience for business people running on tight schedules. After a long flight, arriving at a large airport such as Suvarnabhumi can also be an overwhelming experience. We understand that time is of the essence for many of our guests, and wasting valuable hours at customs and immigration counters is hardly the best preparation for an important meeting. By choosing our popular VIP Fast Track Arrival service, we will speed up the airport formalities, allowing your visit to Bangkok to begin in a relaxed and convenient manner.
You will be personally greeted at your arrival gate by a First Class Bangkok ground representative who will be displaying our company name and logo. From there, you will be escorted by a complimentary golf cart to a pre-arranged special immigration counter where, in most cases, there will be no need to wait before completing your formalities.
You will be assisted with all aspects of your arrival by our highly trained and punctual ground representatives. If you have booked one of our luxury limousines for an airport transfer, our representative will then assist you directly to your pre-arranged car, where your chauffeur will be waiting to take you in style to your chosen destination. Whatever your requirements, First Class Bangkok guarantee to make your visit a memorable one for all the right reasons.
[:th]When arriving at a big international Airport – coming out of Airbridge and then the confusion and worries often start at this early stage – due to you have to catch another plane within a short time.  To avoid stress, worries and even worse – to be late for your next departure take-off. Therefore, let us assist you in a smooth and professional way and guide you through to your departure flight in good time.
Notice – please indicate if you have a connecting flight, you have no need to claim your luggage and no need for check out and then check in again. This information we need to assist you correctly and to avoid misunderstandings and any delays.
First Class Gate to Gate service:
·       Sometimes, it can be very confusing to find a connection gate in a big and busy Airport. At times the remaining time between the two gates is very short and it`s a hassle and the pressure is on to find the departure gate in due time
·       Avoid to get stressed and instead allow yourself to enjoy the transfer between the two gates.
·       Let our ground staff assist you from the second you step out of the arriving airplane and then guide you smoothly and quickly through all sections until you are at the departure gate in due time.
If your departure flight is not a connection flight: 
·       In case that the two flights are not connecting flights – consider our Luggage carrier to assist you to avoid confusing and worst of all – not arrive at the departure gate – Click here for more information
Important:
This First Class Gate to Gate Service is an internal Airport service only – and can only be booked when paid 100 % upfront through our check-out payment link.